The 10 Best Dirty Santa Gifts for Your Holiday Office Party
That Dirty Santa party is coming up pretty quick, and you have not found a good gift yet, ohh noo!  Don't worry my friend, you came to the right place, we laid out 10 of the best gift ideas for your upcoming dirty Santa office party, enjoy!
Dirty Santa Gifts for Your Holiday Office Party
With fall here and the holidays just around the corner, you know exactly what's about to happen…the inevitable holiday office party. Doesn't seem to matter where you work or who you work with – there's always one awkward "party" at the end of the year – and it often involves giving a dirty Santa gift.
Dirty Santa is that tradition where everybody brings one gift to the party, and then each person opens up a random gift and has the option to keep it or steal a gift from someone else. Sometimes they're called white elephant gifts…sometimes they're called dirty Santa gifts…it really doesn't matter what you call it – it always ends the same way. One person walks away with the only decent gift in the pile and the rest of us get stuck with something useless and pointless that we couldn't care less about.
It's a good chance you'll be disappointed with what you get – most people at the party will end up feeling the same way. You know you're going to walk away with a shit gift, so we say make it a bit more fun and focus on what you give instead. Be that guy or girl who brings the gift that everyone wants to steal. Or, be that guy or girl who buys the worst gift that no one wants to get stuck with. (As long as you're not the last one to pick your gift, you won't get stuck with it yourself).
Here's a list of our top 10 most awesome dirty Santa gifts for your next holiday office throw down.
#1 (Almost) Everyone Likes Booze
Nothing puts people in the holiday spirit like a bottle…of…spirits (AKA BOOZE)! If you have next to no budget, you can go really big with this one with an incredible bottle of whiskey under $50 an assortment of vodka or tequila, or a great bottle of Scotch. Need a great dirty Santa gift for an office party that has a ridiculously low cap on the amount you can spend? Just because your budget is only a few bucks doesn't mean you have to rule this one out. Those little airplane-sized bottles of booze are always a hit. And they're perfect for hiding inside your desk drawer if you need a nip at lunch or a shot at the end of the day because your boss is riding you about those TPS reports you need to get done.
Is there a great local brewery nearby?  Do you have a favorite brew that you want to get others to try? A beer gift (be it a six pack, a twelve pack, or a bucket filled with bottles and cans) is always a hit, especially at an office party. We suggest going with a good craft selection of IPAs (or double IPAs if you work with some drunks), but hell, if you've got an office full of Bud Light drinkers, it might be best to resort to that, unless you are trying to troll them. You'll just have to suffer the embarrassment of buying it.  
#3 Get Them Tipsy With a Bottle of Wine
Red, white, rose – it doesn't matter, a bottle of wine is always a winner. It's a good dirty Santa gift because you can find really tasty bottles at all price levels – so even if you have a $20 cap on the gift, you can still find something really tasty. And if for some reason your bottle ends up in the hands of a non-drinker, don't worry. A bottle of wine is one of the most re-giftable gifts you can give. They can open it to celebrate New Year's Eve, get drunk on Christmas Eve, or re-gift to the hostess whose house they go to on Christmas day.
#4 You Can't Go Wrong With Lottery Tickets
We have seen lottery ticket gifts go around a dirty Santa party more so than any other gift in the pile. Spend $5, $10, or $20 on some scratch-offs and you're actually giving someone a chance to win some big bucks. If the tickets are duds – don't worry. The few minutes of scratching excitement is still better than getting stuck with yet another candle or another basket of soaps and shower gels. There's only one potential problem with this gift – and that's how you might feel if that coworker you can't stand walks away with a $20,000 winner. That would suck.
A junky food gift basket is a great dirty Santa gift for a few reasons. One, almost everyone likes the occasional candy bar or salty snack. Two, if it goes to a cool coworker, they just might put it in the office kitchen for everyone to share. And if you have an office full of fitness fanatics and health nuts, it's even funnier. An assortment of pretzels, chips, candy bars, and cookies always seems to go over well, especially in an office where that mid-afternoon snack is the only thing that gets you through the end of the day.
#6 Because Everyone Should Have a Flask
We've suggested a lot of boozy gifts already, but this is one of our favorites. Anyone who drinks has surely had a moment somewhere at some time where they thought "I could really use a drink right now." And that's why everyone needs a flask. Flasks come in all shapes and sizes – from little girly ones to those concealed inside footballs to giant oversized ones that can hold an entire bottle of booze. Go with a small stainless steel flask if you're looking to keep it classy. Opt for something glittery or emblazoned with a silly saying if you want to make it a bit more fun.
#7 BYOW Ready – the Essential Wine Tote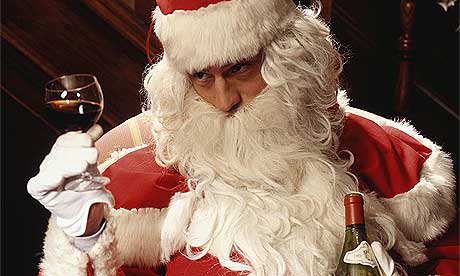 A wine tote is a great dirty Santa gift if you want to give an alcohol-inspired gift without actually giving a bottle. They're perfect for carrying a bottle to a BYOB, a picnic in the park, a backyard bash, or dinner at a friend's house. You can find basic two bottle totes for as little as $10 on Amazon, or you can go the more seasonal route with a Santa pants tote that's perfect for the Christmas season. If you want to up you gift-giving a bit, include a bottle of wine (or two) inside.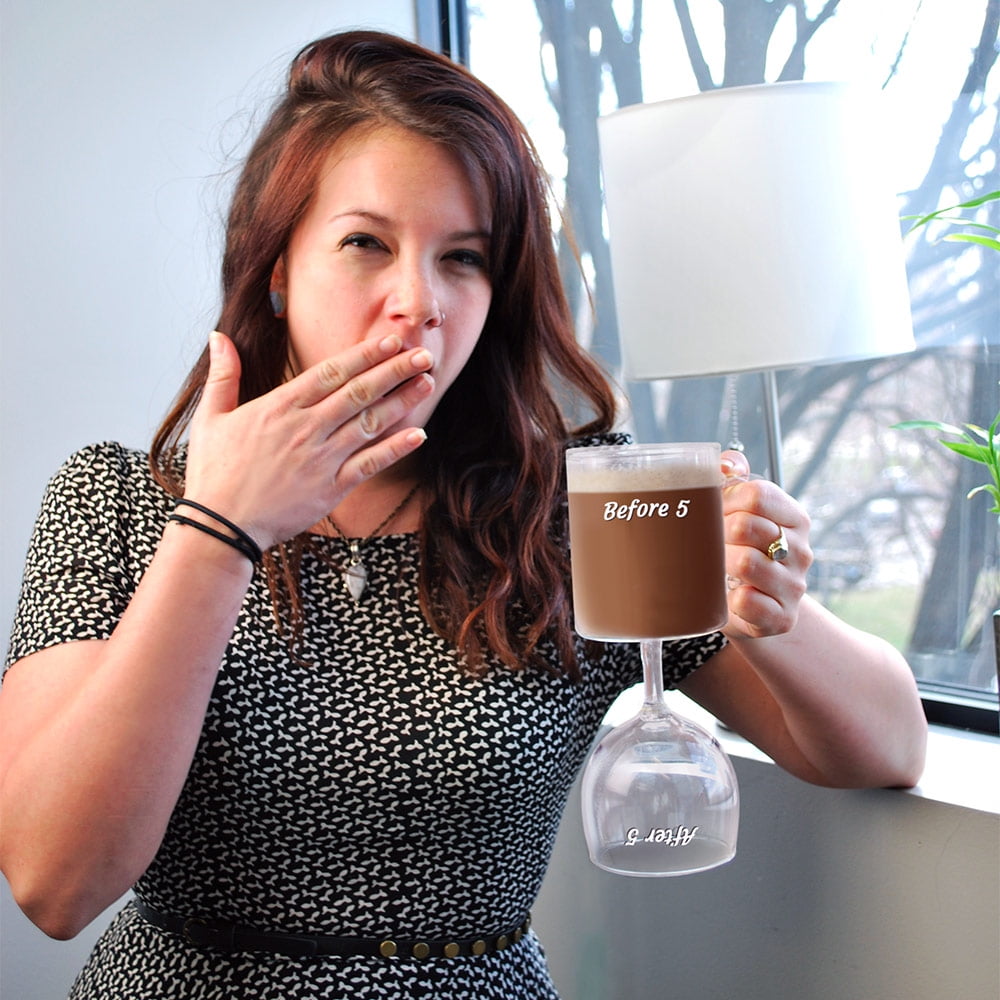 Coffee by day…wine by night…this hilarious combo is awesome, no matter what you're drinking. A wine glass on one end and a coffee cup on the other, this is a funny dirty Santa gift. It might not be super practical for everyone, but then again, no dirty Santa gift ever is. Regardless of how this one goes over, it makes for a pretty good gag gift, so if nothing else, it's sure to get a laugh.
#9 Christmas Vacation Moose Mug (It's a Bit Nipply Out)
Funny dirty Santa gifts are a great way to loosen up a stuffy, boring holiday office party. And there's nothing that makes us laugh more during the holidays than the classic Christmas Vacation movie. Unwrap this Vacation moose mug and you're sure to hear someone break out a couple of classic movie quotes or a rendition of Mele Kalikimaka. And if your coworkers love the movie or have a Clark Griswold-type in their family, this one is sure to get stolen a few times. If your party includes eggnog, everyone is surely going to want to drink theirs out of this cup.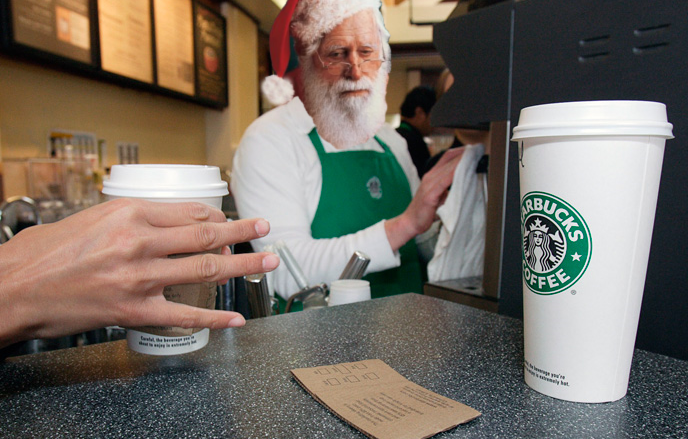 Oh, the gift of all gifts. The gift that everyone wants and only one person gets to keep (unless, of course, multiple people brought the same gift to the party). The coveted Starbucks gift card. The gift that never goes to waste. The gift that never expires. The gift that promises to keep you coffee-fueled for at least a few days. Gift cards a bit of a cop out – but the truth is, it's really all that anybody wants. So if you have no need to be creative with your gift or no desire to one of the awesome selections from this list, the Starbucks gift card is a safe fall back and a proven favorite.
---
Creative, thoughtful gifts are the best, but when you don't know who is going to end up with it, it can be hard finding something that everyone will like. Booze, wine, beer, and drinking-related gifts always seem to go over well, in part because they're also the easiest gifts to regift. But remember, just because it's called "dirty Santa" doesn't mean your gift should be dirty. This year more than ever before, it's important to keep it clean, avoid any sexual innuendos, and keep yourself out of HR.
So this holiday season, when it comes time for the standard office party that you'd rather not attend, don't get bummed out by the crappy dirty Santa gift you end up with. Instead, be the one that brings the most awesome gift to the party. Be the one that brings the gift that gets stolen over and over again until the last gift has been opened. Get yourself in the holiday spirit and remember what your mother taught you – giving is better than getting.  
We hope you enjoyed our post on some awesome Dirty Santa gifts for your next office holiday party.  Let us know your thoughts or any great ideas you have in the comments below.
Cheers!
The Guys @ The BroBasket