We know that sometimes you are not quite sure if you want a cocktail or a beer, but why settle when you can make a beer cocktail? We broke down 15 awesome beer cocktails ranging from the mundane to the insane. Check it out and turn up responsibly (whatever that means).
The Top 15 Beer Cocktails
In the mood for a beer? Feeling like you might want to have a cocktail? Which one should you start with? Decisions, decisions…
Can't make up your mind? No worries, there are dozens of awesome beer cocktails you can order at your local bar or mix up at home right now. Lifelong beer drinkers might think the concept is odd, just like liquor fans who hate beer might snub their noses at the thought. Well, guess what? You're wrong.
Beer cocktails are awesome. They're not just a fleeting trend that will be gone in a month. They're here to stay, and the sooner you embrace them, the sooner you'll broaden your boozy horizons to include everything you love in one drink.
Keep reading for 15 amazing beer cocktail recipes you'll want to drink over and over again. For the beer drinkers who love their liquor, you're welcome. 
1) The Michelada
The Michelada is not some new brew mixed up in a gastropub in the '00s. This one has been a Mexican favorite since the 1960s. And with that much tradition behind it, it's easy to see why Michelada is at the top of our list. A tasty concoction of cerveza (Mexican beer) mixed with lime juice, sauces, spices, and salt, it's an ultra-refreshing cocktail that's perfect for those days when you can't decide if you want a beer or a mixed drink. It's kind of like a Bloody Mary cocktail with beer—the ultimate hangover cure!
There are several variations of the Mexican beer cocktail, but this Michelada recipe is our favorite:
The perfect (in our eyes) Michelada recipe
In a pint glass
(optional) Rub wedge of lime on the edge of a glass and rim the glass with salt or my personal fave Tajin
(optional) Fill half the glass with ice
Fill 1/3 of glass (Approx 5oz)  with Bloody Mary mix (or if you're lame tomato juice) - Zing Zang or Clamato are our favs.
Squeeze juice from 1/2 lime or lemon juice (your choice)
Add a few dashes of Worcestershire sauce
(optional) Sprinkle a few dashes of Tajin to your liking
Tilt glass and slowly fill it with beer 
2) Irish Slammer
You might think you've never had a beer cocktail before, but if you've ever had a Slammer (let's face it, who hasn't?), the truth is, you have. The Slammer is a classic, and boozehounds and frat boys have been drinking it for decades, but it's especially acceptable on St. Patrick's Day.
To make the perfect Slammer:
In a pint glass fill 3/4 of the way full with Guinness
Top that shot glass with some Bailey's Irish cream
Drop the shot glass into the pint and chug, and we mean chug till you're done my friend
We like this cocktail so much we decided to make an awesome Jameson Slammer gift basket and Slammer BroBox; check them out.
3) Boilermaker
 The Boilermaker is a classic similar to the Slammer, if only for the fact that it requires a shot of liquor dropped into a glass of beer. This tried and true drop shot is easy to mix and even easier to drink. It's pretty much a guaranteed way to get a party started.  In some parts of the county, this may be more like a beer and shot combo, but quit being a pussy and drop that shot in your beer and stop wasting precious drinking time.
How to "make" the perfect Boilermaker cocktail
Pour a pint glass of beer 3/4 of the way full, (or all the way you messy savage)
Pour a shot glass of whiskey - may I suggest one from our Bourbons under $50 list?
Drop the shot glass into the beer glass and chug like you are late for your own wedding
Not into drop shots? You can also enjoy a Boilermaker by downing the shot and then chasing it with beer. But technically, that's not a beer cocktail… That's just a beer chaser... and you should be taking shots like a man anyway.
This one is so awesome, we made a Jack Daniels and Bud Light gift basket in honor of the Boilermaker. Check it out.
4) Lemon Shandy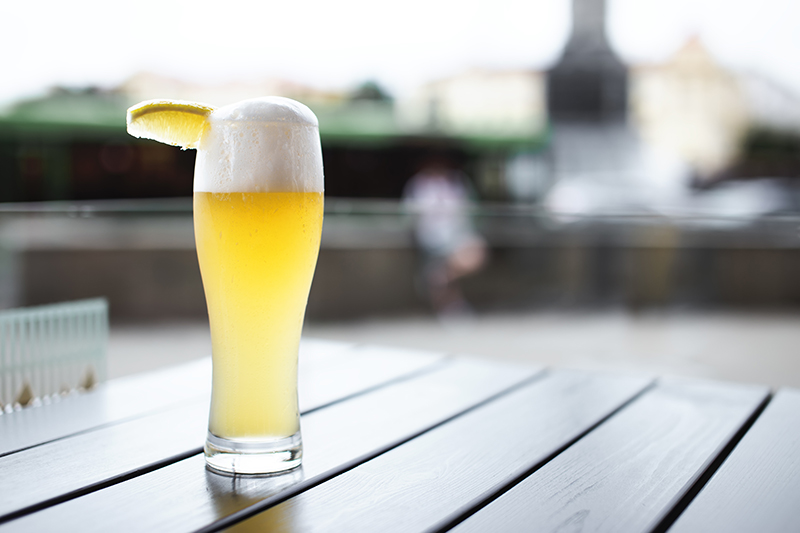 Some call it a lemon shandy, some call it a shandygaff, we just call it one damn delicious boozy lemonade. This one is super easy to make, and it's perfect for kicking back on a hot summer day.
The perfect Lemon Shandy
Pour equal parts beer and lemonade into a glass (we like Stella Artois for this one)
Garnish with a lemon slice
Sit back and sip on it, or down it if you are a thirsty beast
Now of course there are more lazy options since there are a lot of shandy style beers on the market, in our experience Leinenkugels makes some of the best and are the most ubiquitous so you can actually find it.  
5) Beer Mimosa AKA The Manmosa
Isn't it funny how the only thing that cures a Saturday night hangover is a day-drinking session on a Sunday afternoon? (Hair of the dog, I guess.)  If you love a Sunday funday as much as we do, it's time to try a beer mimosa, AKA beermosa, AKA Manmosa. When you don't want the champagne sleepiness or can't bear the thought of drinking your weight in rosé for one more day, this is the beer cocktail to top off any great weekend.
The perfect Beermosa:
Fill 1/2 your glass (or 99% depending on how wild you want to get) with the beer of your choice, we prefer Miller High life since it is the "Champagne of Beers"
Add orange juice to fill the glass or just for color - Sunny D will do if you are trying to white trash it up
Garnish or throw an orange slice (or a few) in your glass
Sip and relax until you forget that Monday morning is right around the corner…
6) Beer Margarita AKA The Beegarita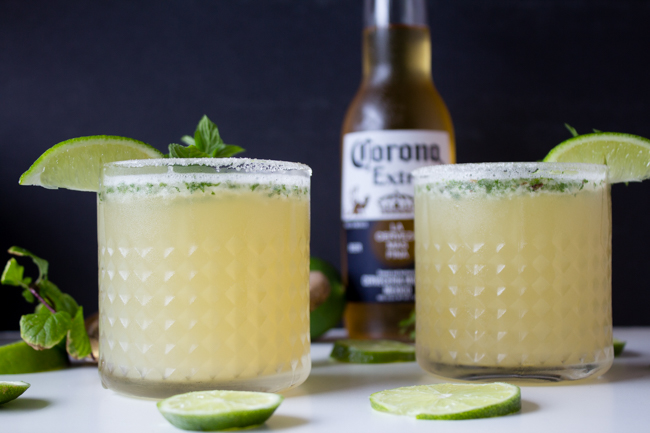 Call it a beerita, call it a beergarita, call it whatever you like...  it's a refreshing margarita-inspired beer cocktail that will make you feel like you're soaking up some Mexican sun. The recipe below makes six servings, so it's perfect for two people who want to get a bit tipsy.
How to make one fine Beergarita:
Rim some margarita glasses (or whatever you got laying around) with lime juice and dip in sea salt
Combine 12 ounces of frozen limeade concentrate or margarita mix with 1.5 cups of tequila and 24 ounces of beer
Mix well, pour it over ice, blend, or don't – your choice
Disfruta!
BONUS - Instead of mixing the beer in add one of those mini Corona's also know as a Coronita (Seen in our Viva la Tequila gift basket) or a full size Corona or a few if you are a true savage.
Of course if you don't want to just buy some beer at the store, here is a great way on how to make beer at home. You're welcome.
7) Black Velvet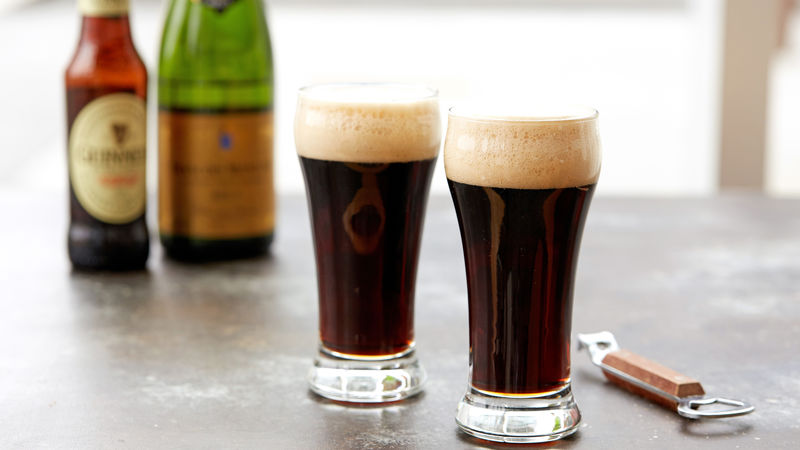 Believe it or not, this beer cocktail has been around since the 19th century. Rumor has it, it was originally mixed up to mourn the death of Prince Albert in London in 1861. With that much history behind it, it's got to be good. And we're giving it bonus points because it's ridiculously easy to make.   
Recipe for creating your own drunk history:
Grab a pint glass or Solo cup if you aint fancy
Fill half with champagne
Fill the other half with Guinness or your preferred stout beer
That's it! Sit back and enjoy a surprisingly delicious beverage
8) Beer Punch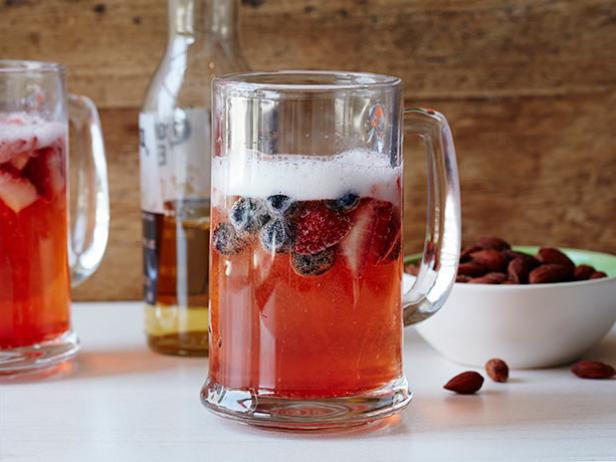 This one has a few more ingredients than most cocktails on this list, but it's totally refreshing and quite impressive if you have the patience for it. Head to the farmer's market for some fresh fruit, pull out your cutting board, and get ready to chop some berries.
The best beer punch cocktail recipe (makes 2-4 glasses):  
Wash and chop 4 strawberries
1/4 Cup blueberries, chopped or whole
1/4 cup white sugar
2 tablespoons grenadine
2 tablespoons fresh lime juice
Toss all the ingredients in a bowl or for ease of use, a pitcher, and stir
Cover the bowl and chill it in the fridge for a minimum of one hour
Divide the fruit and juice mixture into your glasses, then top each glass off with a light beer or a pilsner of your choice - a Mexican styler beer works good here, we prefer Modelo
Enjoy! 
9) Black and Tan
The Black and Tan is the ultimate beer cocktail, if only for the fact that it includes two types of beer (see what we did there?). This one's simple to make, but it might take a bit of practice to get the perfectly double-layered look.
The perfected Black and Tan recipe:
Fill half a glass with a lager, typically this is Harp lager in most pubs
While holding a medium to large spoon (or ideally a Guinness pouring spoon), slowly pour over your stout or porter - of course this is almost always Guinness
The trick is to hold a spoon with the rounded side up just above the lager so that when you pour the stout it forms a layer on top and to pour slowly.
Enjoy a stout beer with a bite of larger at the end, or just a weird mixed up beer because you poured too fast. 
10) Beer Sangria AKA Brewgria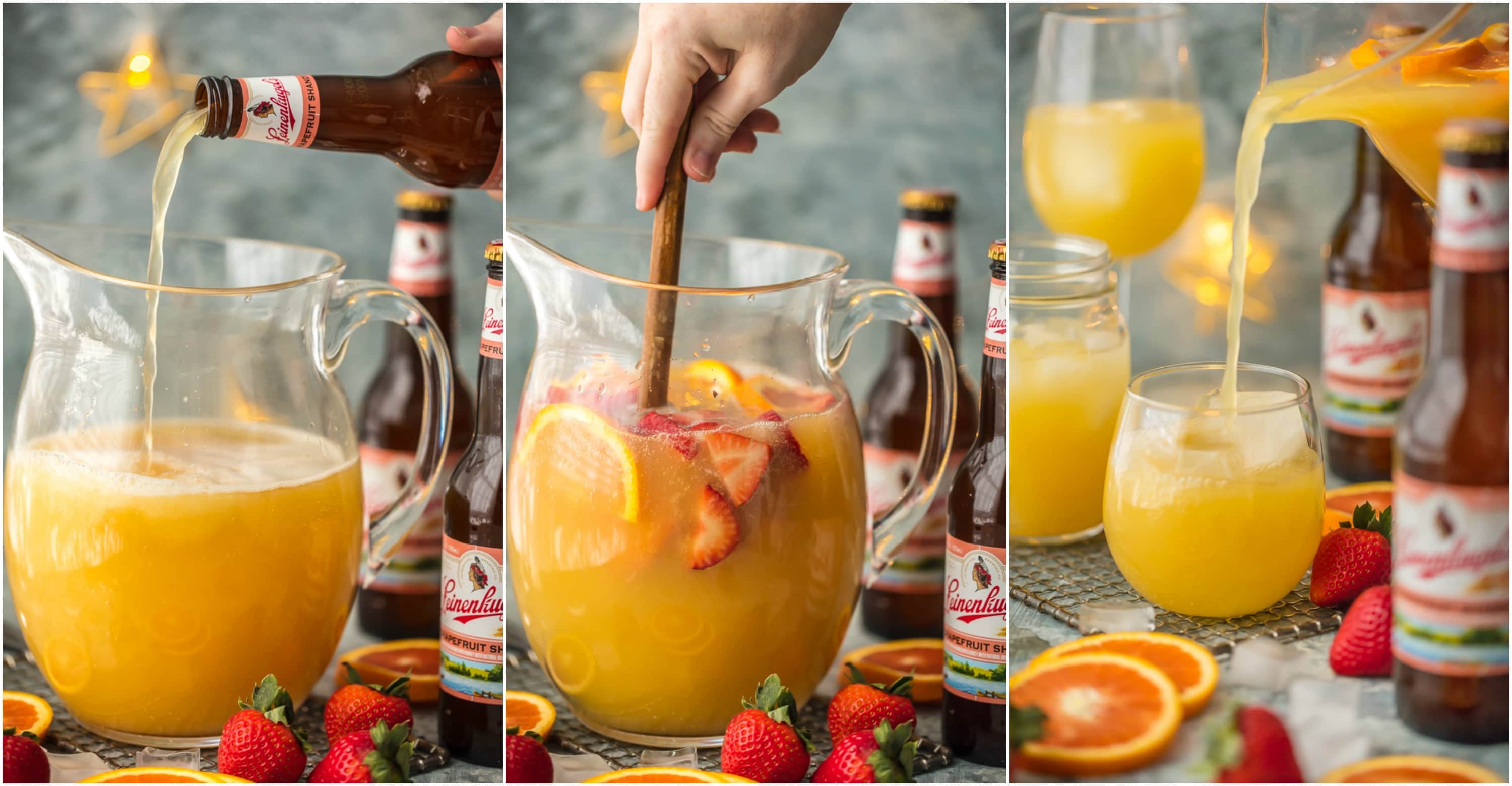 If you're a Sangria fan who prefers beer over wine, the Brewgria is the drink for you. Mix it just like Sangria with your favorite fruits, juices, and ice, but instead of adding wine, add your favorite brew. But of course you are here to see how we like it, so let me show ya.
Recipe for one tasty Brewgria:
1 1/2 Cups White grape juice
1 orange cut up the way you like - we suggest mandarin or a few cuties
Optional (if you are trying to turn up hard) 8 oz Vodka - can't go wrong with Tito's here
2 apples cup up like matchsticks - you would probably need a mandolin or similar to pull this off, so thin slices will do if you don't
2 cups seedless grapes cut in half
Beer of your choosing - we prefer Bluemoon here since it already has a nice citrusy flavor
Combine all ingredients in a pitcher sans beer, refrigerate 2 hours minimum, fill you glass to your heart's desire and add beer
You're welcome!
11) Bull's Eye
With lemon juice, light beer, ginger ale, and sugar, the Bull's Eye is a cool Cuban-inspired cocktail that hits the spot on a hot summer day. It's also really easy to mix.
The perfect Bull's Eye beer cocktail:
Pour 1/3 cup of lemon juice into a pitcher or cocktail mixer
Add one can of ginger ale and one can of beer
Add two tablespoons of sugar and stir
When the sugar dissolves, pour over ice and DRINK
12) Coupe de Ville (not the car)
The Coupe de Ville is a bit more complex than most of the cocktail recipes on this list, but if you're willing to play bartender for a bit, the payoff is totally worth it.  It's kind of like a way classier beergarita
One awesome Coupe de Ville cocktail:
Combine 6 ounces of anejo tequila (or what ever you have laying around) with 6 ounces of fresh lime juice into a pitcher
Add 6 ounces of orange juice and 3 ounces of orange liqueur (we suggest Grand Marnier)
Add 6 bottles of Mexican beer (we prefer Tecate) and stir it all up, but not too hard least you make is foamy
Pour it into chilled glasses and you're good to go
13) French Monaco (not the City)
Pomegranate fans will enjoy this one. The French Monaco is a favorite in France (duh!)...  it's easy to make and it has a certain je ne sais quoi that we think you'll enjoy.
The perfect French Monaco beer cocktail
Measure out an ounce of grenadine (the real stuff made with real pomegranates) you can always make it yourself
Measure out two ounces of lemonade
Pour it into a glass filled with ice and add six ounce of lager - we like Stella Artois for this one since it made right next door in Belgium
Stir a bit to combine and enjoy!
14) Flaming Dr. Pepper Shot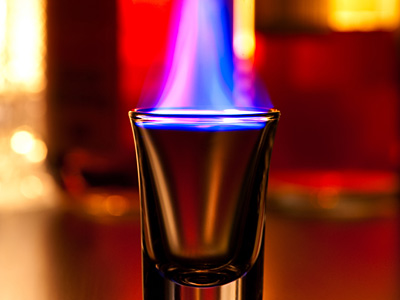 This one's not for everybody, but if you love a drop shot (and fire), you've got to give it a try. With a mix of beer, amaretto, and rum, this one is fun because you literally get to set it on fire. Not in the mood to singe your eyebrows? Save this one for when you're out and can have a bartender make it for you.  Or go somewhere like the first place I tried it at Amestoys, one of the oldest bars in Bakersfield, specifically known for the Flaming Dr. Pepper shot.
The flamingest Flamin' Dr. Pepper recipe:
Fill half a pint glass with beer, nothing too crazy here, a simple Coors light will do
Pour amaretto (we also prefer Disaronno) into a shot glass
top shot off with rum, the higher the proof the better - 151 is ideal if you have it
Set the shot on fire (Let that inner pyro out)
While the rum is flaming, drop the shot glass into the beer
Toss it back and feel the burn
As always make sure the drink is not actually on fire when you knock it back, least you lose all the hair on your face
15) Summer Hoedown
Watermelon and cherries make the Summer Hoedown the perfect picnic cocktail for a summer day. It takes a bit of time to make because you have to let the juice chill, but that's okay—just drink a few beers while you're waiting.
The Summer Hoedown recipe:
Dice a watermelon and place half of it in a blender until it's liquefied
Remove the pulp with a strainer, blend the other half of the watermelon, and repeat
Add 2 tablespoons of sugar to the watermelon juice and refrigerate until it's chilled
Add 1/4 cup of maraschino cherry liqueur - hard to find but the juice out of the cherry jar can work
Add four bottles of beer (we suggest Hoegaarden or Blue Moon)
Pour into a pint glass over ice and drink up! 
---
There are endless amounts of beer cocktails that you can mix up at home or order at your favorite local watering hole. We love our hoppy IPAs and craft saisons as much as you do, but every once in a while, it's good to try something new. The next time you invite your boozehound friends over, forgo the standard case of beer and try mixing up one of these beer cocktails instead.
Let us know what you tried from the list and if you have any awesome beer cocktails you like that we did not include here.
Cheers!