The 18 Best Breweries in San Diego
I decided to put together this awesome handy dandy list of the best* breweries in San Diego because I recently had my bachelor party there and, like any craft beer lover, I made all my buddies go on a brewery tour with me.  I found information on "the best" or "coolest" breweries in San Diego to be hard to find, so I had to do some digging. With that digging I now bring you this awesome brewery guide to help you have the best San Diego craft beer exploring adventure you can.
Why 18 San Diego Breweries?
Well because there are a lot of other guys out there that have written about the top 5 breweries in San Diego, the top 10 San Diego Breweries, or just a lazy "The Best Brewery in San Diego"… but I'm here trying to give you some real substance. So if you want to go deeper than just the highlight reel or hit all 18 (you savage), then you can do it brother!  Also, as of my counting there are 151 breweries, so 18 is the least we can do.
*Disclaimer - Thanks to some real sticklers I decided to be more upfront about these being "the best".  Do these breweries make the best beer? maybe.  Are they the best breweries to visit and hang out at? possibly.  Are there better breweries in San Diego? most likely.  The point is, "the best" is arbitrary and subjective, so use this list how you may as part of your research on finding, visiting and enjoying breweries in the San Diego area.       
The San Diego OG "Must Visit" Breweries
9990 AleSmith Ct., San Diego, CA 92126
Ratings - Untappd: 4 | BeerAdvocate: 4.1 | Google: 4.6  | Yelp: 4.5
The AleSmith Brewing Company is tucked away in an industrial area that is home to a few other breweries on this list (Ballast Point & Mikkeller) as well as Mike Hess, which is basically in the same parking lot. It may be "hard to find" for the brewery newb, but it's big so you can't miss it which takes me to my next point…
When walking in here you may think to yourself "holy shit this place is huge!" and you would be right, it is huge. So if you like a place where you can always find a table, this is the brewery for you! It is a lovely space with a loft area, a patio, a museum, and a "hidden" room. They offer an awesome selection of beers from their catalog, and each one better than the last.
You know they are going to be good because of all the W's they have taken home from the San Diego International Beer Festival.  The Double Red IPA and the Hawaiian Speedway Stout are my personal faves, but I'm kind of a beer slut and I like all styles of beer. the Speedway stout is one of their highest rated, so that makes sense to me.  You're only problem will be deciding on which beers to taste because you are not gonna be able to try them all unless you are trying to get annihilated.  There is also a revolving cast of food trucks on their lovely patio (as well as fun events) so if you're hungry you will not be disappointed.  I know I ate something good but "sampled" too many of their beers to remember what it was... 
BONUS: They have a "hidden" tasting room off to the side of the main room where they offer their tasty selection of bourbon barrel aged beers. Finding it is up to you – you'll have to figure that out for yourself.

DOUBLE BONUS (sort of): If you are a Padres or Tony Gwynn (RIP) fan, they have an inexplicable Tony Gwynn museum in the brewery, so check that out if you are into that kind of thang.

9045 Carroll Way, San Diego, CA 92121 - Their First and Biggest location
Ratings - Untappd: 4 | BeerAdvocate: 3.9 | Google: 4.7  | Yelp: 4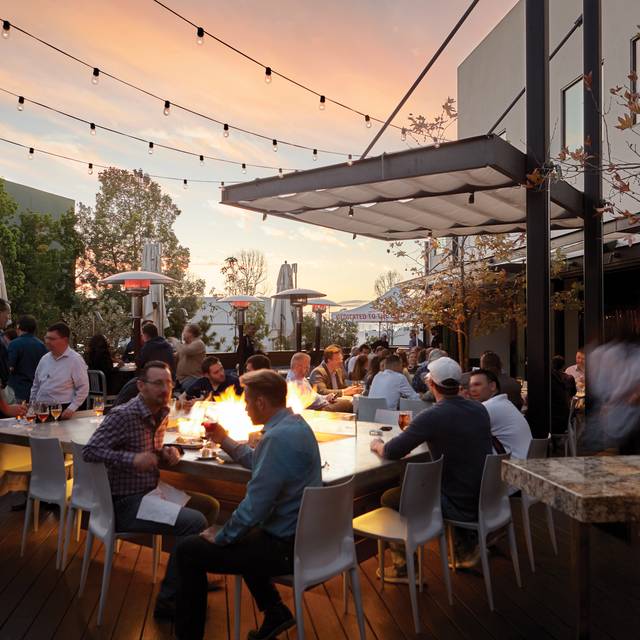 This place, much like AleSmith, is huge and hard to miss!  It is the original and main brewery where they pump out all that Sculpin you see everywhere.  It has some big red
grain silos outside (bet you thought that was something else) and pretty cool looking copper brew kettles upon walking in (not something you see everywhere). There's also a large restaurant area that can, at times, be a long wait. If you plan to show up drunk and hungry you may want to eat somewhere else first.  I hear they have good food though, so it is worth trying if you haven't already stuffed your face full of the tacos you found at the last brewery. The place itself is an awesome open space with a nice patio to enjoy on those beautiful San Diego afternoons. The large restaurant has ample bar space so you can enjoy your beer tasting whether you're in the mood for a classy sit down dinner or prefer to white trash slam taster glasses at the bar in your flip flops.   
I know what some of you beer nerds might be saying, "They got bought out and are part of the macro beer enemy, and I don't consider it "craft beer" anymore!" First off, chill out bro, it's just beer. Second, they still serve great beer in a cool atmosphere - and that is what we seek my friend. This brewery has all the classics like 'Sculpin IPA' and Sculpin IPA with some sort of fruit in it, but where it really shines is the tons of stuff you won't find everywhere else, like the High West Barrel Aged Victory at Sea (one of my faves) and a litany of sours, like their Sour Wench series, which was surprisingly good for a person like me that does not love sours.

1999 Citracado Parkway, Escondido, CA 92029 - Their First and Biggest location
Ratings - Untappd: 3.9 | BeerAdvocate: 3.9 | Google: 4.5  | Yelp: 4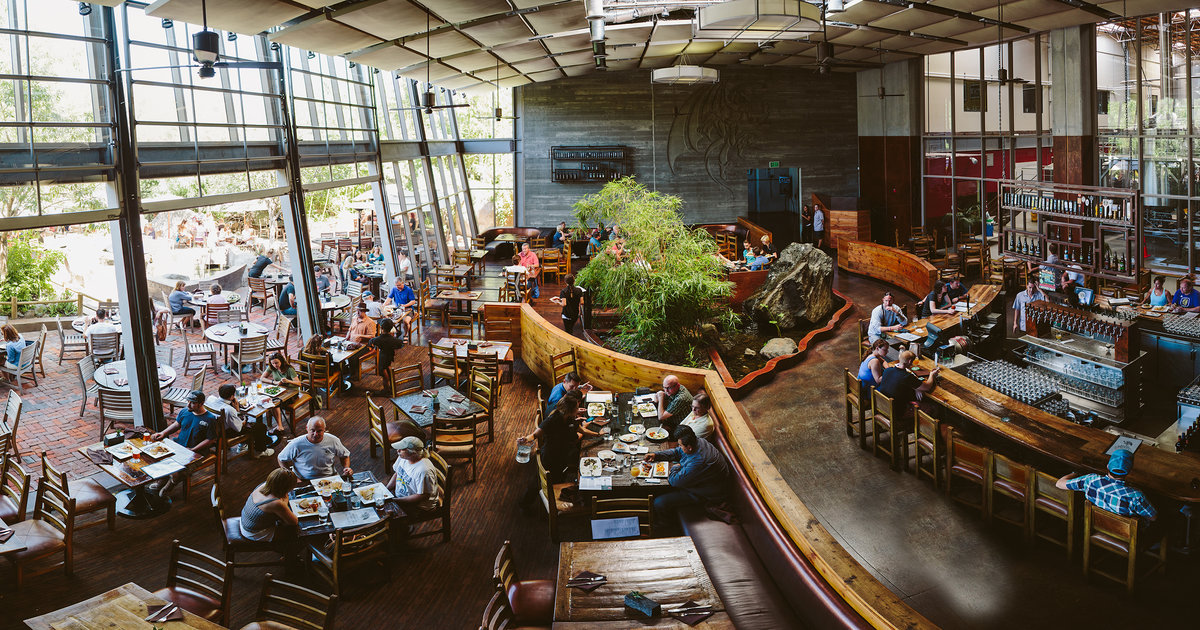 I know you might be saying, "Wtf James, why are you sending me out to Escon-freakin-dido!?"  Well my friend, for one simple reason: it's worth it. This place is admittedly far from downtown San Diego (where you are more than likely staying if you are visiting), but it's worth every second of the drive, especially since there are a few others on this list out there like Mother Earth and Lost Abbey.  Stone is the one that kicked it all off in San Diego way back before your girlfriend was born in 1997, so you have to pay homage and kiss the rings of the craft beer gods that now dominate the San Diego beer scene. Stone has something like 7 or 8 breweries and brewpubs in the area now (two made it on this list).
The brewery itself is basically on its own block, but good luck finding parking. Their gigantic parking lot is almost always full, so be prepared. (You might even want to consider taking a bus or taking a tour).  The inside is stunning with stone facades, nice woodwork, gargoyles, and an epic view into their massive brewing facilities. Even though the inside is impressive, its patio and gardens take the cake - it wins in my book for the best outdoor space for a brewery, not just in San Diego, but anywhere!  Complete with trees, fake grass, and water features, you'll feel super zen while you catch some rays and a buzz in the process. To give you an example of how big the garden area is, the last time I was there all of it was closed off for a wedding and the rest of the place was open and full of regular patrons.
You will find all the Stone standards on tap here from Stone IPA to Arrogant Bastard and (one of my new faves) Stone Ripper.  However, be mindful that if you sit upstairs they don't have the selection they offer downstairs, and they're sometimes finicky about lugging up a beer they have on tap downstairs. So just take your lazy ass downstairs and get some beers from there.  My favorite is the Stone Totalitarian Imperial Russian Stout but thinking back, at over 10% it was a probably too big of a beer to kick off the day. Yolo. They also have some sours worth trying if that's your sort of thing.
4441, 3725 Greenwood St, San Diego, CA 92110  - Their First location
Ratings - Untappd: 4.1 | BeerAdvocate: 4.2 | Google: 4.6  | Yelp: 4
This is my personal fave, so I'm giving you an upfront bias warning, but if you go, I think you will agree.  Modern Times used to only be found in a little gritty warehouse district by the airport. Now they have expanded to North Park, Los Angeles, Portland, and soon they'll be opening close to me in Santa Barbara (very excited).  In my opinion, this is your quintessential brewery. They don't serve food, you can't find parking, it's in a bizarre location, there's a guy hucking grain into a brew kettle ten feet from you, and it has weird art and a weirder mix people…awesome!  Most importantly, their beer is amazing!
From hazy IPAs to sours, they have a bunch of stuff on tap that you cannot find anywhere else - and each one is better than the last.  The ones that top my list are Outside Worlds (one of their hazy DIPAs) and Dinosaur World (another one of their hazy DIPAs). I just love the style.  They of course have a bunch of great sours, like the Galactic Filaments, that can really wet your whistle! Don't show up too drunk, pull up a stool at the bar, and try not to get everything on the menu (because you are going to want to).     
To top it all off, they also have a full blown coffee shop in there that opens at 7am, so it makes a great place as your mid or last stop on your brewery tour when you are 8 DIPAs deep and getting pretty sleepy.  Much like their beer, they roast their own beans and make their own cold brew (opt for the cold brew, it's the tits). Don't expect to find food here. I have never seen a food truck here (where would they park?!) but I could be mistaken.
BONUS:
Flying out of San Diego airport? Have a layover?  Modern Times is only about a 10 min Lyft from the airport and is a great place to spend some time before, in between, or after flights.
155 Mata Way #104, San Marcos, CA 92069
Ratings - Untappd: 3.8 | BeerAdvocate: 3.9 | Google: 4.4  | Yelp: 4
This is a two-fer. I'm sure you may be a little confused as to how there are two breweries in the same place, but it's true.  One wall has flip flopped Port brewing tap handles and the other has Celtic cross Lost Abbey handles, so you can mix and match then meet in the middle.  Much like Modern Times, this is your typical gritty brewery with lots of character and none of the refinements of a place like Stone, but that's fine by me - they have great beer and awesome people there.  It's way the hell out in the hinterlands, but if you're already going to Stone, this place is just around the corner.
This is a great place to go to satisfy everyone's palate since it has two breweries in one that brew different styles of beer.  Port has a bunch of awesome IPAs, my fave being the High Tide IPA, while Lost Abbey specializes in Belgian style beers. And as someone that has been to Belgium and had the beer there, this place gets as close to the real deal as you can get here in the states.  I personally like their Quad they have on tap, but I'm a sucker for big beers.  Fun fact, it used to be an old Pizza Port brewery. 
BONUS - This place typically has food trucks and the last time I went it had an amazing wood fired pizza trailer…if you're lucky you just might find it there.
206 Main St, Vista, CA 92081
Ratings - Untappd: 3.8 | BeerAdvocate: 3.9 | Google: 4.8  | Yelp: 4
This place is your typical no-nonsense brewery that serves up awesome beers and not much else.  Come thirsty and ready to try a range of styles of tasty craft beer. It is in a hip location and is the perfect place to drink beers with your buddies.
If you haven't had it by now
Cali Creaming
is their iconic beer and is hard to compare to any others.  It taste just like those cream ale's you used to have as a kid but with booze in it... sometimes it feels good to be all grown up.  Their
Kismet Nelson IPA
and
Sin Tax Imperial PB Stout
are also on the must-try list. Of course you do not have to let me boss you around, they have a lot of stuff there you can't find anywhere else so make sure you get more than a few tasters.  
BONUS -
Cruise next door to
Mothers Provisions
if you are looking for a tasty bite to eat; your lady friend prefers wine; and/or you want to hang out in a less breweryey digs.
571 Carlsbad Village Dr, Carlsbad, CA 92008  - Their First location
Ratings - Untappd: 3.8 | BeerAdvocate: 3.9 | Google: 4.4  | Yelp: 3.5
I'm telling you to go to the Carlsbad location because A: It's like walking into that old pizza place you used to go with your buddies to play Street Fighter Two and split a pizza as a kid, but with an awesome brewery in it! And B: It has the old school vibe the others, while still pretty cool, don't have.  Like I said, it feels like you walked into an '80s pizza joint that someone stuffed a bunch of huge stainless fermenters in. This is not the most ideal spot to hit while on your typical San Diego beer tour, so I like to stop by on my way out of town since it's close to the 5 freeway. Come for the beer, stay for the pizza, and talk your lady into driving before you walk in.
If you haven't had any of their beers before (though you can find them at any craft beer store worth its salt in California) then you are in for a treat.  As someone that can get my hands on their wheelhouse beers any day of the week, I prefer the stuff that you can only find at their brewery. Their good flagships are their Chronic Amber Ale, Swami's IPA, and Kook DIPA.  I can't tell you what to get in particular because their special releases are always getting released. I would just recommend getting a big IPA or Stout, they do them so superbly!
If you are thinking "but James, I want to go to the original location," then head to their Solana Beach spot - it's also pretty dope and just down the street from another brewery on this list, Culture.
BONUS:They actually have some arcade games here so you can relive your childhood dreams of getting that high score in Street Fighter, even though you're now forty (and drunk).

The Rest of the Best Breweries in San Diego
1347 Tavern Rd, Alpine, CA 91901
Ratings - Untappd: 3.9 | BeerAdvocate: 3.9 | Google: 4.7  | Yelp: 4
Alpine is actually owned by Green Flash, both of which recently got new owners, and located a bit off the beaten path out in the hills of Alpine, CA but no further than Stone Brewing so if you are already out driving around trying beer you might as well.  Green Flash purchased Alpine some years ago for their access to the highly sought after Nelson hops imported from New Zealand, as someone that has been to Nelson NZ, seen the hop farms, and and tasted the beer, I see why!
Of course for these reasons you have to try anything you can find with Nelson hops in it, but these days they seem to be few and far between.  My favorites from them are the Duet IPA and the Willy Vanilly wheat beer with a hint of vanilla. I have not personally been to their brewery but they seem to have a bunch of stuff you can't find anywhere else so make sure you get as many tastes as you can stand.       
4150 Mission Blvd #208, San Diego, CA 92109
Ratings - Untappd: 3.7 | BeerAdvocate: 3.7 | Google: 4.5  | Yelp: 4
This place is called Amplified as in a rocking amplified electric guitar, and that fact will not escape you when you see the names of their beers like the flagship Electrocution IPA.  Now don't get in a tissy and tell me "James, this is not their best location!"  Yeahuu my friend!  and has one of the best views of any brewery on this list with their rooftop beer garden.  Make sure you try their award winning Whammy bar Wheat, the judges at the World Beer Cup seemed to think it was one fine American Wheat back in ought 16.

BONUS - This place does Brunch to nurse that Sunday hangover off you wino.
2719 Loker Ave W d, Carlsbad, CA 92010
Ratings - Untappd: 3.7 | BeerAdvocate: 3.5 | Google: 4.8  | Yelp: 4.5
This is one of Carlsbad's newest breweries but is already making a name for itself.  Known for having an awesome variety of beers and a descent selection of Belgium's. Come for the beer, stay for that ideal brewery atmosphere that you love some much.  Its a hidden little industrial gem, where breweries belong brother!
BONUS -
They have free Popcorn!
9366 Cabot Dr, San Diego, CA 92126
Ratings - Untappd: 3.9  | BeerAdvocate: 4.1 | Google: 4.7  | Yelp: 4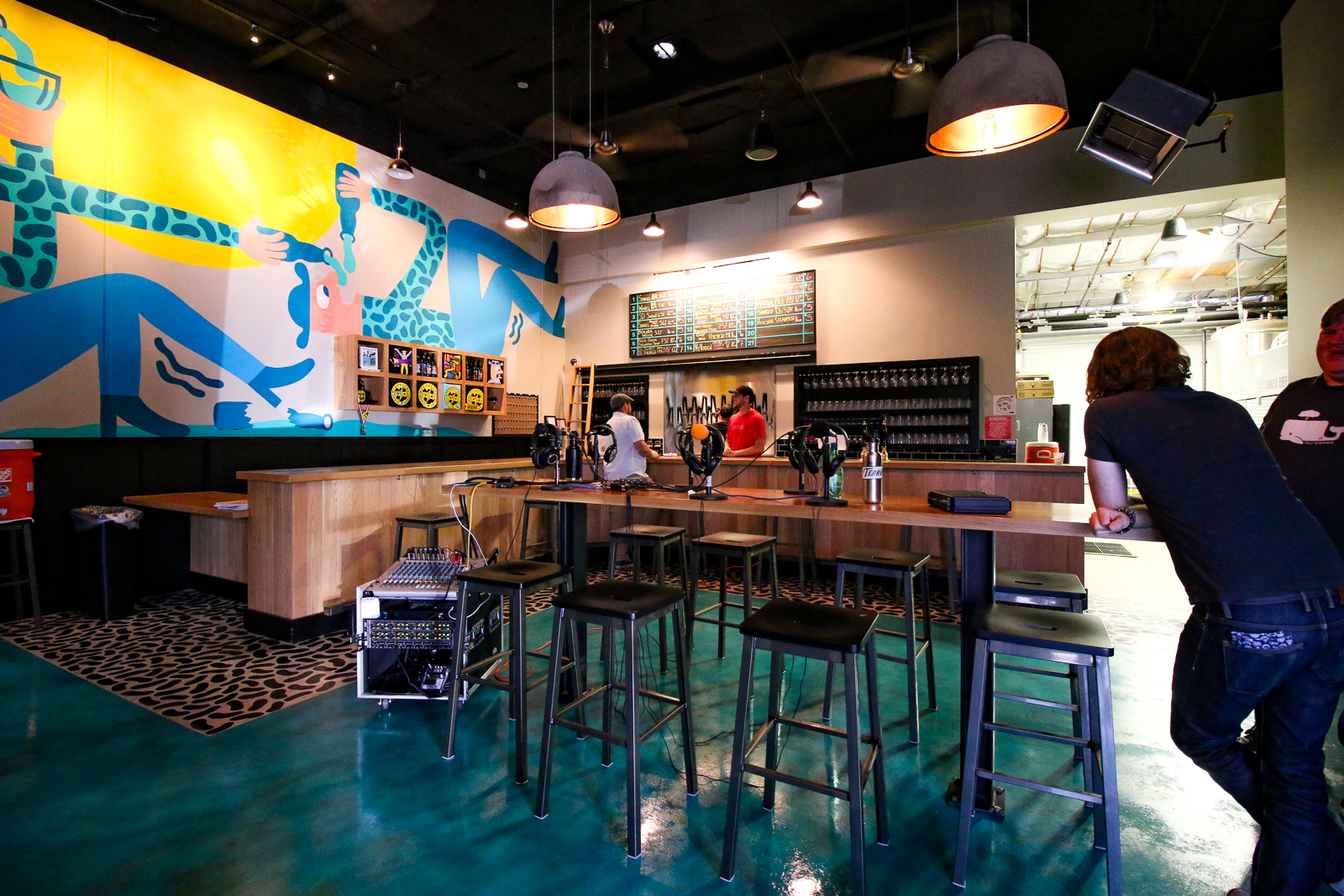 A great mix of an awesome variety of beers coupled with a cool atmosphere make this place a must visit on any brewery tour of San Diego. The head brewer and owner of Mikkeller, Mikkel (look him up, cool story), is what is known as a "gypsy brewer", basically he creates and brews the Beers all the way in Denmark and ships them around the world.  One of the few places to find his amazing beers is right in San Diego. Don't get salty because it's not a San Diego loc beer bruh, they do actually brew beer on site with recipes approved by Mikkel,  and its tasty stuff served in a friendly atmosphere, that's why ya go.  Make sure you eat before you get here because they don't have food my friend, and we all know you are going to want to "taste" a lot of what they have to offer.
Cool Factoid - Its location used to be the old home of AleSmith
Restaurant: Urge Gastropub & Common
255 Redel Rd, San Marcos, CA 92078
Ratings - Untappd: 3.9 | BeerAdvocate: 3.8 | Google: 4.4  | Yelp: 3.5
Mason is actually nestled inside an awesome little gastro pub called Urge, so come for the beer, stay for the food.  It is in a cool expansive place with an even more expansive selection of beers at over 30, so you know will not be disappointed.  Bring your buddies or your gal because they have a little something for everyone. Most people seem to think there is no parking here but its way out by the OG Stone anyways so you should try to catch a ride.   
BONUS - There's a bowling alley so you can get your Big Lebowski on (White russians sold separately)
111 S Cedros Ave Suite 200, Solana Beach, CA 92075
Ratings - Untappd: 3.7 | BeerAdvocate: 3.7 | Google: 4.7  | Yelp: 4.5
With three locations in the area I am not going to force your hand on which one you should go to, if you are trying to keep it close to home there's one in Ocean Beach, but everyone seems to think the Solana Beach location is where it's at so I'll base what I'm talking about on that one.  It is a cool craft beef hangout with an amazing selection of craft beers in a no frills brewery local. They have a solid selection for people of all stripes but the Gold Medal Brown ale is a recommended fav. They do have food trucks almost every night so check their web site for what kinda food you're expecting, or just show up hammered and scarf down whatever they throw in front of you ya beast.       
BONUS - They offer gluten reduced beers for the intolerant and the fakers alike.
8262 Clairemont Mesa Blvd, San Diego, CA 92111
Ratings - Untappd: 3.9 | BeerAdvocate: 4 | Google: 4.5  | Yelp: 4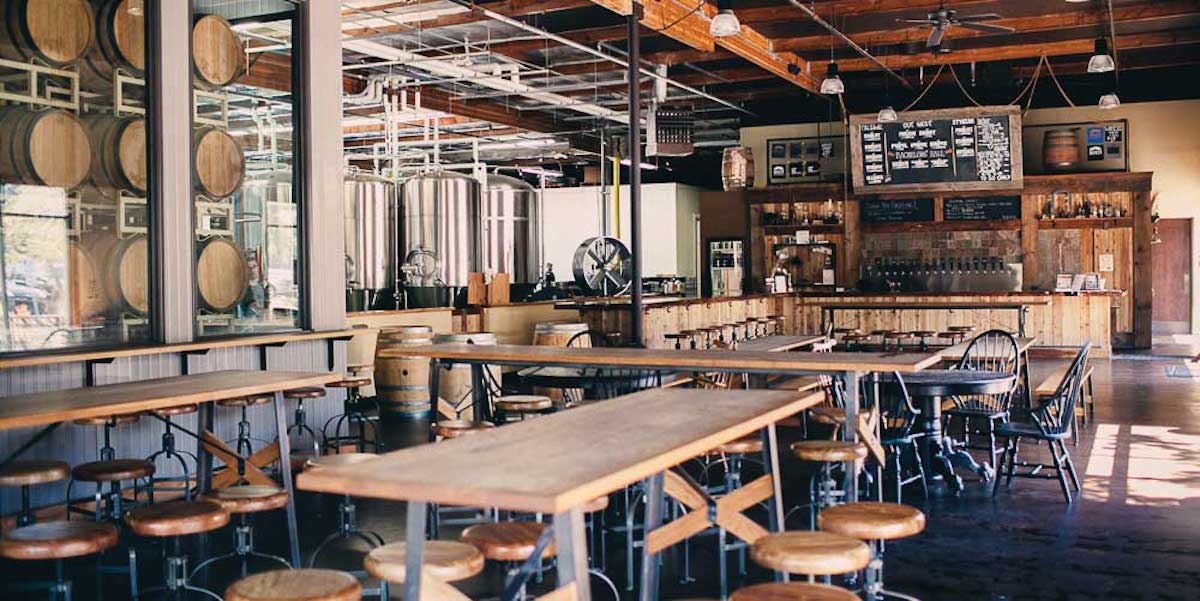 Beer nerds and a lot of other reviews out there would say that this place right here has some of THE best beers you are going to find in San Diego.  I can not confirm nor deny those claims personally but winning the West Coaster's Best brewery award in 2014 and 16 may make that point fairly well, especially since they have only been open since 2012, bet you have hot sauce in your fridge older than that. The brewery and the co-owner Douglas Constantiner has a pretty awesome story that is worth checking out if you are into that sort of thing.  They are known for having some of the best IPA's that ever touched your lips and their Pupil is on of the highest rated beers on Beer Advocate.  This place is your typical brewery with revolving food trucks and a bunch of people clamoring for some hoppy goodness, so keep that in mind.           
170 Orange Ave, Coronado, CA 92118
Ratings - Untappd: 3.8 | BeerAdvocate: 3.8 | Google: 4.3  | Yelp: 3.5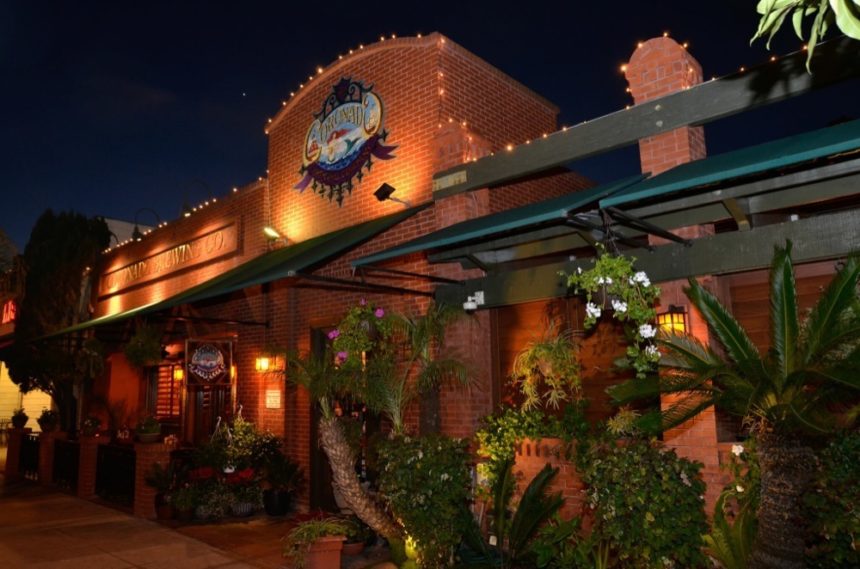 I'm going to put a bias alert in here because my family is from Coronado and my dad grew up here and so maybe that makes my taste buds appreciate their beers that much more.   They have three locations in San Diego but Im talking bout the original in Coronado holding it down since 96' on the little main drag here in Coronado. This place is a full on brew pub with food like there wood fired pizza that is almost as good as their beer.  They have a ton of taps so don't make it your first stop unless you think you're up for the challenge. Their Orange Ave Wit and Idiot IPA are great but can be found in other pubs and restaurants in Southern Cali and beyond, so opt for something a little more wild.         
1441 L St, San Diego, CA 92101
Ratings - Untappd: 3.6  | BeerAdvocate: 3.7 | Google: 4.5  | Yelp: 4
This place is actually located in the middle of San Diego and not way out in the sticks like the rest of these places, so if you are downtown Gas Lamping it this might be the place for you to end at, but you're grown so you figure it out.  Its located in an old brick building that looks like what you think a downton brewery in a big city should, and has been slinging tasty beers since 1994. They have a decent amount of taps (at least more than your pussy brother can drink) so come with a thirst that needs a quenching.  Their core stuff like the Shipwrecked IPA is great but can be found in 32oz cans in and around California, so try some stuff on their season tap list. They have a wide variety, even a pretty damn good hard root beer, so spread the love or just get the strongest stuff you can get your hands you boozehound.      
BONUS - They have cocktails if you're lady doesn't care for beer or if you are just trying to turn up that hard
North Park Beer Company
3038 University Ave, San Diego, CA 92104
Ratings - Untappd: 3.8 | BeerAdvocate: 3.9 | Google: 4.4  | Yelp: 4
North Park is where the hippest of the hipsters live so you know they are gonna have some good breweries up in there.   They have food here as well and my favorite style of ordering at a brewery which is an orderly line that they pour your beers at then bring your food to you after instead of a 3rd world back of a truck rice sack free-for-all that is a crowded bar.  They make some mean IPA's here from what I hear so I would start there and then make your way around the world.
BONUS -
They have wines on tap (if yo girl is too bougie for beer) and guest beers as well as ciders.   
601 South Coast Highway, Oceanside CA 92054
Ratings - Untappd: 3.7 | BeerAdvocate: 3.8 | Google: 4.4  | Yelp: 4
Bagby may be the furthest north on this list so if you cant fit it into your brewery tour it is worth hitting up on your way back North since it is not too far off the 5 or from the train stop in Carlsbad, if you aren't lucky enough to be headed anywhere but north leaving San Diego, tough luck bucko!  If you came hungry they have great food as well so that just makes your road trip pit stop that much better my friend. They make a ton of off beat beers here so if you are an "IPA'S only bro!!!" kind guy then maybe this isn't your spot, but they have a ton of guest beers to wet your whistle if you are.  They make some awesome Belgian and German style beers so I would start their first, my fav is the Spiced Girl Belgian blonde ale.
Honorable mentions
2816 Historic Decatur Rd #116, San Diego, CA 92106
Ratings - Untappd: 3.6 | BeerAdvocate: 4.5 | Google: 4.7  | Yelp: 3.5
Great spot for folks looking to have all of Stone's great beers without having to drive 30+ minutes.  It's also a beautiful location in and out with a ton of great beers and good food. It has an awesome patio so it is perfect to enjoy one of the many beautiful days you'll find yourself having in San Diego.   It's super close to the airport and another Brewy on the list Modern Times so it makes a great last (Or first) stop when going in or out of town.
BONUS - They have Bocce ball courts and movie nights!     
4223 30th St, San Diego, CA 92104
Ratings - Untappd: 3.6 | BeerAdvocate: 4.1 | Google: 4.6  | Yelp: 4.5
Even though they have 5 locations I'm suggesting you go to the North Park one because I just like North Park and you are probably already going to North Park brewing anyway.  They have good food to compliment their beer so if you didn't already stuff your face you can soak up some booze here. This place does stouts the best and their all star is the Peanut Butter Milk Stout, it taste just as good as it sounds so drink up!
Not convinced and want to do more digging?  The city of San Diego is nice enough to provide a
complete list of breweries in San Diego County here
Sample Brewery Tour Itineraries
An afternoon with you and your lady/man (For Couples)
Stone Brewing ⇒ Mason Ale Works ⇒ Bagby Beer Company
Stone has a lovely outdoor area where you and your sig can chill, Mason has some good food for your bellies and a bowling alley to throw some gutter balls into, and Bagby also has food in case you were too busy bowling at Mason and is just a few blocks from the beach so you can catch the sunset.  
A weekend with the boys (Great beer tour for bachelor parties)
Greenflash ⇒ Mikkeller ⇒ AleSmith ⇒ Ballast Point ⇒ Modern Times ⇒ Mission Brewing
All these places have great tap rooms, are not super far out of town, and beer for guys with all different tastes.  The best part is it ends back in Gaslamp so you can close the night out hard and party, that is unless you gotta take you blacked out friend home first.  
Fun times with the girls (Perfect for craft beer tasting for bachelorette parties)
North Park Beer Company ⇒ Belching Beaver ⇒ Stone World Bistro ⇒ Mission Brewing
The first place North Park has wine and we know your friend Karen doesn't drink beer (what a B) so that's good for her, Belching Beaver has a ton of options for everyone's tastes but no wine or cocktails for Karen (she gets too drunk anyways so grab a water and hit the bench Kare), Stone is just a cool "happening" place to hang out and has food that you will no doubt need to eat, Mission has cocktails so Karen will be happy (if she's not blacked out by then) and you're back in Gaslamp incase you want to party more or your friends are fighting and everyone wants to go home.  
Craft Beer Savages (Not for the faint of heart)
Pizza Port ⇒ Mother Earth ⇒ Lost Abby/Port ⇒ Culture ⇒ AleSmith ⇒ Mikkeller ⇒ Societe ⇒ Modern Times
These places just have some of the best beer you are going to find in SD and they are a must try for the beer snobs and sluts alike.  You may want to break this up into a two or a few days but if you think you can pull it off in one then go for it you savage, just please get a ride if you are.
What exactly is our methodology?
Well not only have our contributors and I been to most of these breweries to check them out and sample their wares, but we also have found and provided empirical evidence for why we think these are the 18 best damn breweries in San Diego.  Some may disagree with them being "the best", and that is fine, because it is really hard to sit down and come to an agreement on what are the best breweries and everyone is going to have their own opinions.   
Using Untappd (the beer check in app) and the craft beer nerd hangout BeerAdvocate we can see that these breweries have beers with decent ratings. While using Google and Yelp we can see how much people like (or dislike) the location, staff, food (if they have it) and service, it is called science my friend.    
These breweries in San Diego aren't numbered from one to eighteen or "best" to "worst" because A: I feel that they are all awesome in their own way and B: like how exactly do you rate them?! (well we kinda did)  Stone Brewing has an exquisite layout, a superb beer selection and a lovely menu, Modern Times is a gritty but hip craft beer guy hang out…. To each his own my friend, I'm just here to put out a better guide to sort through all the San Diego beer that is out here in the year of our lord 2018, it is up to you to head to all of them decide which the best one is for yourself.  
---
Hey We Mapped Them For you!