There is no other cocktail that is as steeped in tradition and as flavorful as Bourbon Whiskey. Isn't it true?
And while there is no one-size-fits-all approach to drinking Bourbon, there are those that allow for a more pleasurable experience.
You don't have to spend a lot of money on a fancy bottle of Bourbon to enjoy it. In reality, lesser-known bottles are available at prices you wouldn't guess.
In recent years, bourbon prices have been slowly increasing across the world. Millennials' growing love of bourbon has propelled the spirit to the pinnacle of cocktail culture. Of course, others have always learned how to get the best out of America's favorite spirit.
However, deciding which brand and bottle are right for you can be challenging. How can you choose between the most famous bourbon whiskey brands or, in the end, find the year's finest Bourbon?
If this post doesn't fit your fancy, then check out our other post on 22 Budget Bourbons.
---
1. Evan Williams
Evan Williams is a strong, unpretentious brand of Bourbon that appeals to all whiskey beginners and enthusiasts. It hits all the right notes at a price point that is affordable to everyone. 
Evan Williams, who founded Kentucky's first industrial distillery along the Ohio River in 1783, was the inspiration for the Bourbon. The brand is well-known as one of the best-selling in the world, and it offers possibly the best, standard size spirits with an ABV of 43%.
Despite its low price, this Bourbon has many aromas and flavors to enjoy during the tasting experience. It will still have traces of vanilla and mint at first, accompanied by caramel and brown sugar notes when it is aged in used bourbon barrels.
---
2. Old Forester
The Old Forester Bourbon Whiskey Brand has been around for over 150 years, and its signature Bourbon is evidence and experience comes with age. This Bourbon comprises 70% corn, 18% rye, and 10% malted barley and is a favorite among bartenders.
Old Forester's Signature Bourbon has a light finish with apple notes and a deep and nuanced flavor well superior to its price point.
---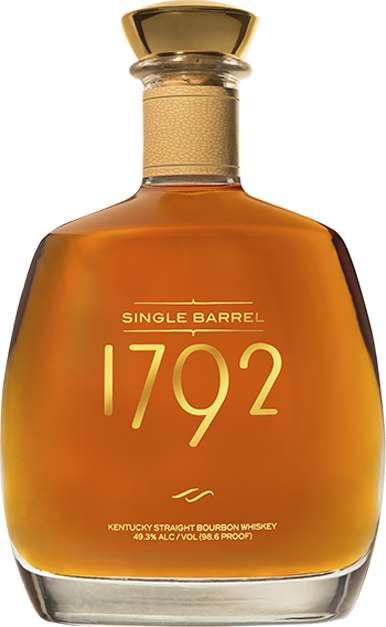 3. 1792
1792, historically known as "Ridgewood Reserve 1792" and "1792 Ridgemont Reserve," is yet another brand that goes beyond the price point. It is made from a high rye content and follows an old-school Kentucky recipe. It's aged in hand-selected bourbon barrels and has a perfectly soft flavor to match.
This is a fantastic Bourbon Whiskey that is well worth the money. This Bourbon Whiskey Brand has rich butterscotch and caramel flavor with touches of fruit and toffee and has earned several international awards.
If you are lucky you can occasionally find this awesome whiskey in our Customize Your own Gift Basket here, we are constantly bringing in new and interesting bourbons to try.  
---
4. Ocean Bourbon by Jefferson
Few Bourbons will pass with the crossing oceans during the aging process, which is why it is named Ocean Bourbon. What may seem to be nothing more than a publicity ploy has proved to be the foundation for a fantastic whiskey in the form of Jefferson's Ocean Bourbon.
Do you know? The equator is crossed four times on each voyage of Jefferson's Ocean. Drink it straight while pondering how long the glass has traveled to get to you.
This experiment yielded a rich, dark Bourbon with a wide range of flavors. According to Jefferson, temperature variations, salt air, and the gentle rocking of the boats all work together to balance a genuinely fine Bourbon Whiskey.
---
5. William Larue Weller!
The annual launches from William Larue Weller come with a steep price tag, and there's a justification for that: the bottles are genuinely one-of-a-kind as they are matured in premium used bourbon barrels. Buffalo Trace's Antique Collection's William Larue Weller (2017 release) was named the 2019 World Whisky of the Year. Don't be put off by the fact that it's only been aged for 14 years.
These bottles are often sold out as soon as they are released. The two most popular notes you'll get from a bottle of William Larue Weller are "spicy" and "caramel."
Don't be put off by the price tag; this is a Bourbon Whiskey to be savored on its own, and after you've tried it, it'll take pride of place in your home.
These were some of the best bourbon whiskies to add to your list! Now, let's get to know about the basics of Bourbon Whiskey in detail! 
---
What Makes Bourbon So Unique?
So, you must be confused about what's so special about Bourbon Whiskey? This well-known spirit has a distinct flavor profile and a long and illustrious tradition. 
Bourbon is unlike anything else you'll find in the liquor cabinet because of the time, attention, commitment, and craftsmanship that goes into it. Bourbon was also dubbed "America's Native Spirit" by Congress in 1964.
Kentucky, the birthplace of Bourbon, provides 95% of the world's stock of the spirit. Unlike other drinks, a manufacturer cannot simply name their product "Bourbon" until it meets all of the criteria. Its meticulous manufacturing process of aging bourbon in bourbon barrels guarantees a seamless and efficient beverage.
My Approach for Selecting and Ranking the World's Best Bourbon Whiskey Brands!
So, how do I look at various variables to help me rate the best Bourbons in the world, including evidence, age, and price?
The Proof: Although it's common knowledge that a higher proof (or ABV) number equals a "better" bourbon whiskey, this isn't necessarily the case. A lower proof might be well in cocktails, whereas a higher warranty might be better on the rocks.
The Aging Process: Like the previous point, many people believe that the longer the Bourbon is aged in bourbon barrels, the stronger it is. However, after aging their bourbon in used bourbon barrels, several manufacturers have thrown caution to the wind and either disabled or shortened the amount of time on their bottles' age banners.
The Cost: Understandably, you'd prefer to spend more money on bourbon to drink straight rather than one to blend into cocktails or an Old Fashioned. So, while cost wasn't as high as the other factor while selecting the best bourbon whiskey brands, it was considered when compiling this list.
Are you ready to try all these 5 exotic Bourbon Whiskies? So, these were some of the world's best bourbon whiskey brands to drink and buy! So, what are you waiting for? Go and grab your favorite one now! 
If you find this blog helpful, please don't forget to put your comments in the section below! Cheers!
---
Author Bio:
Rachel Moore works as a Marketing Manager at Rocky Mountain Barrel Company. Rocky Mountain Barrel Company provides used wooden barrels for spirits, like bourbon barrels, whiskey barrels, rum barrels, and wine barrels. Rachel Moore loves her combination of nature, wine, and nerdy friends who appreciate her homemade wines.
Social Profiles:
https://www.facebook.com/rockymbc 
https://twitter.com/barrelagethat
https://www.instagram.com/rockymountainbarrelco