A study conducted in the United States showed that Americans
double their drinking
during the holidays. With all the chaos that has happened during 2020, we wouldn't be surprised if that statistic changes and goes up even more. Searches for cocktail recipe ideas have certainly increased so we are here to give the people what they want!
While purchasing a festive wine is one way to welcome the holiday spirit, brewing your own festive cocktail will take your experience  to the next level. After all, with everyone being stuck at home for so long, we're all just itching for something to do (and brownie points if it's something that looks fun to share on social). 
If you're looking to spice up your week, ditch your typical evening plans and instead, try planning a stay-at-home date night with takeout, movies, and homebrewed cocktails or a virtual party with friends. Whichever route you decide to take, here are some refreshing holiday wine cocktail ideas to try this season.
Holiday Punch Cocktails
This
holiday punch cocktail recipe
only takes a few minutes to put together and is sure to get you in the festive spirit.
This holiday cocktail recipe is great for holiday parties as it's cost-effective and takes less than 5 minutes to make. 
Despite the fruity edge from the orange and cran-apple juice, the red wine, ginger, and vanilla bring out rich holiday undertones that balance the cocktail perfectly. It's also easy to dress up with cranberries, cinnamon sticks, and orange slices for a more festive appearance. 
It requires just five ingredients, and you probably already have most of them sitting in your cabinets.
Ingredients
1.5 liters of Red wine

4 cups Cran-apple juice

3 cups Orange juice

36 ounces  Ginger beer (or strong ginger ale)

5 teaspoons Vanilla extract
Garnishes:  cinnamon sticks, fresh cranberries, or orange/apple slices
Step 1: Pour all ingredients into a bowl and mix well
Step 2: Add your desired garnishes and serve over ice
Blood Orange Sangria
This fruity sangria
is another excellent holiday cocktail and is sure to be a party highlight. It's also ideal for those that want to maintain a healthy diet during the holidays, with each serving coming in at just 157 calories.
Blood oranges come in season in December and add a tart flavor and deep, festive coloring to the cocktail. However, if they aren't available, you can also use navel oranges. 
If you plan to make this cocktail for an event, be sure to start early, as it requires eight hours to chill before consumption. As they say, good things take time.
Ingredients
2 Cups Strawberries

2 Cups Apple Juice

¾ CupTriple Sec 

½ Cup Sugar

4 Whole Cloves

3 Seedless Blood Oranges

2 (750 ml) Fruity Red Wine

2 (3 inch) Cinnamon sticks

1 Lemon

1 Lime
Step 1: Combine all ingredients and stir until the sugar is dissolved
Step 2: Cover and refrigerate for 8 hours
Step 3: Pour sangria and fruit into glasses
Apple Cider Sangria
This
cocktail
is the perfect blend of all your favorite fall flavors with cinnamon, apple, and a hint of orange. If you're not sure what wine to pair this with, Pinot Grigio is an ideal choice as its natural fruity flavors mix well with these ingredients.
This recipe is paleo-friendly, low carb (12 carbohydrates per glass), and low calorie (just 117 calories per glass).
Ingredients
2 Apples
1 Orange 
¼ Pomegranate Seeds
1 bottle White Wine
½ Cup Vodka
2 and ½ Cups Fresh Apple Cider
2 Cinnamon Sticks
1 Tbs Honey or Maple Syrup
½ tsp Cinnamon
1 Tbs Fresh grated ginger
1 Cup Carbonated Water or Club Soda
For Garnish
Paleo Caramel, for the rim of the glass
Step 1: Combine all ingredients except the carbonated water/club soda
Step 2: Refrigerate
Step 3: Serve over ice with fresh fruit
Mulled Wine Cocktail
If you're on a tight schedule and need a quick and easy recipe, this
mulled wine cocktail
is a guaranteed hit, perfect for whipping up to have with some apple pie! With a cook time of just 2 minutes, it is easy to create and can be served hot or chilled. 
A Beaujolais red wine completes the fruity taste of this recipe and compliments the other ingredients perfectly.
Ingredients
4 oz of Light muscovado sugar

1 Star Anise

1 Cinnamon stick

4 Cloves

150 ml Water

1 Lemon

2 Clementines

150 ml Cointreau

750 ml Light Red Wine

Twist of orange zest and a star anise, to serve
Step 1: Combine sugar, star anise, cinnamon, cloves and water and bring to a boil. Stir until sugar is dissolved
Step 2: Allow it to simmer for 2 mins and then pour it into a jug to cool. Then add the lemon and clementines (thinly sliced) as well as the Cointreau and red wine 
Step 3: Stir well and then leave to chill for at least 2 hours (the longer the better)
Step 4: Serve chilled or traditionally warm with the twist of orange zest and a star anise
Holiday Sangria Cocktail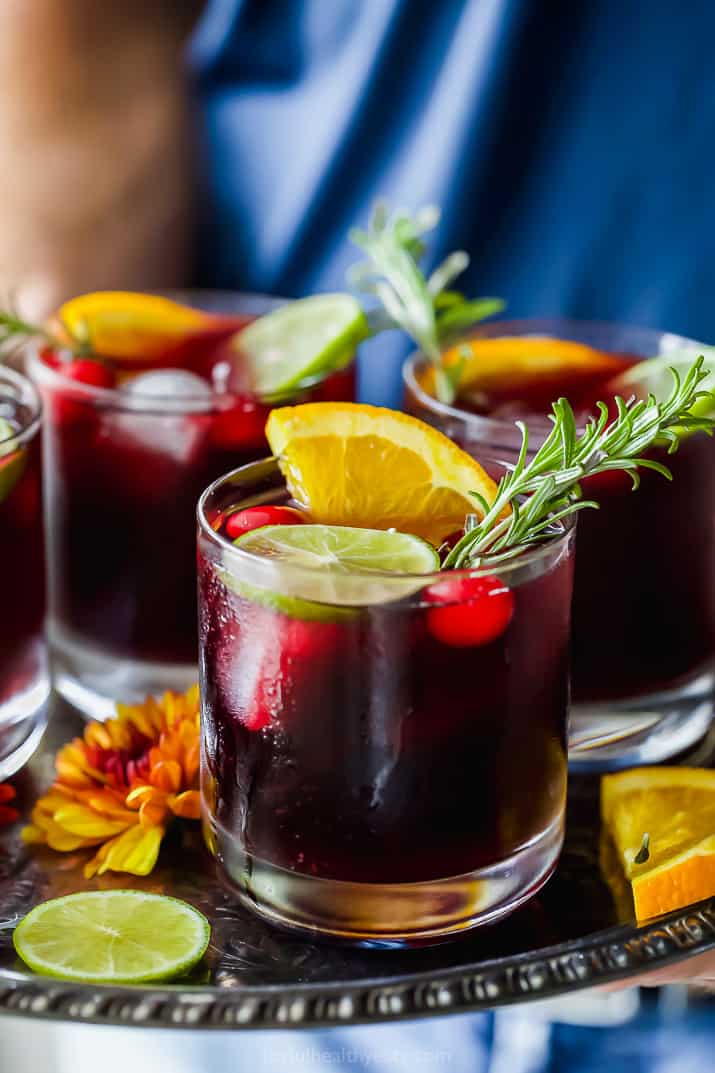 This
holiday sangria cocktail
is another quick, easy, and delicious recipe that embodies the best winter flavors. The pomegranates will add a sweetness to it, so use a dry wine like a Pinot Grigio or Chardonnay.
The triple sec and brandy highlight the drink's natural fruity qualities and add a festive flavor to the cocktail.
Ingredients
2 (750ml) bottles of Pinot Grigio or Chardonnay 
¾ Cup Sparkling Apple Cider
¼ Cup Sugar
¼ Cup Cranberries (halved)
¾ Cup Cranberries (whole)
1 Apple
3 Rosemary Sprigs
Step 1: Combine all ingredients and stir until sugar is dissolved
Step 2: Refrigerate for 4 hours
Step 3: Serve chilled and garnish with rosemary sprigs
Wrapping Up
Whether you're looking to do something with your friend, roommate, spouse, or planning to host a virtual holiday party, these wine cocktails will certainly be a hit. Similar to food, drinks are a great way to bond and strengthen relationships and with the way that 2020 has been playing out, we could all use a touch more of human connection.
The recipes include ingredients that are easily accessible, affordable with instructions that make them simple enough for anyone to make and add the perfect festive touch to any occasion.  If you decide to make one (or all) of these for yourself, let us know which one was your favorite in the comments.
About the Author
Jon Notarius learned about wine from a young age from his dad, Burton Notarius, the founder of the nationally-recognized store, Premier Wine & Spirits, in Buffalo. In 2002, Jon founded Prestige Wine & Spirits, which quickly became recognized as a market leader amongst wine retailers. In fact, in 2007, Prestige Wine & Spirits received one of the industry's highest honors — the prestigious "Leaders" award from Market Watch, a trade magazine from the publishers of Wine Spectator. Following his father's passing in 2014, Jon returned to Premier Wine & Spirits to manage the store that Burt had founded in 1969,
placing considerable emphasis on growing the store's online business,
WineDeals.com
. Jon's extensive travels through many of the world's wine regions, along with decades of tasting wines, have given him a broad palate. He lists Italy and France as his two favorite places, for both their wine and their food.