Nerdy Groomsman Gift ideas:
From Practical to Cheap to Nerdy and How Much to Spend
A gift for your groomsmen is a gift to your best friends. Whether buddies you built forts with before you even had your first beers, or college roommates you met while being on your own for the first time. Or maybe you are the unicorn that actually made deep and lasting friendships in your post-grad, adult life.
Whoever they are, these are the people who you can count on. The ones you would venture into an underground tunnel with and evade deadly booby traps to defeat a two-bit crime family in order to score a lost and potentially not-real treasure in order to save yours and your friends' family homes from foreclosure and being bulldozed in order to build up a country club. Yes, that's the plot of the Goonies. Think of you and your groomsmen as a band of Goonies.
So when you're deciding on what gift to get your groomsmen, make it something special. Make it something they'll treasure.
Some Bookkeeping Details
When you're brainstorming ideas for groomsmen gifts, it's important to take a few numbers into account.
The first is to set a budget. Weddings are expensive. And off all the details from venue to flowers to cakes or pie for dessert, there's a good chance you're going to be spending way too much money on stuff. So a budget is key.
How Much Should You Spend On Groomsmen Gifts?
Before you think about the cost of the actual gift, you should consider the total expense. How many groomsmen are in your party? If it's a smaller party, 2 or 3 close friends, then you can probably spend more on a gift and still stay within a reasonable budget.
If you have 10 groomsmen or so, then you need to become more selective about your friends. Short of that, you're probably going to want to pick an affordable gift.
Here's a helpful price guideline for how much to spend on groomsmen gifts:
Affordable Range: $25-35
Mid-Range: $40 - $55
High End: $75 - $100
Practical Gifts For Practical Groomsmen
A good gift is something useful. Though giving the "gift of experience" like a weekend getaway, or sky diving trip is on trend and pretty cool in its own right, it's not practical for a groomsmen gift. And this set of gift ideas is nothing but practical.  
Affordable and Practical
These little notebooks are great for on-the-go note taking, or jotting down ideas you don't want to forget, or even just for to-do lists for stuff around the house and in everyday. They are study notebooks that will easily fit on the back pocket of a pair of jeans. They have cool designs, and are inexpensive and reliable. You can purchase a 3-pack for $13. And to make them more unique, you should look into the
limited edition field notes memo books
.
Cooler Chair - $25.99 - $35.99
These things are sweet. One mark of adulthood is actual being prepared for events that you're going to. You bring chairs to the beach instead of just a towel. And when you tailgate, you bring a cooler chair. You can also get this bad boy personalized. Which is great for actual use and your tipsy and can't remember which cooler is yours.
Mid-Range and Practical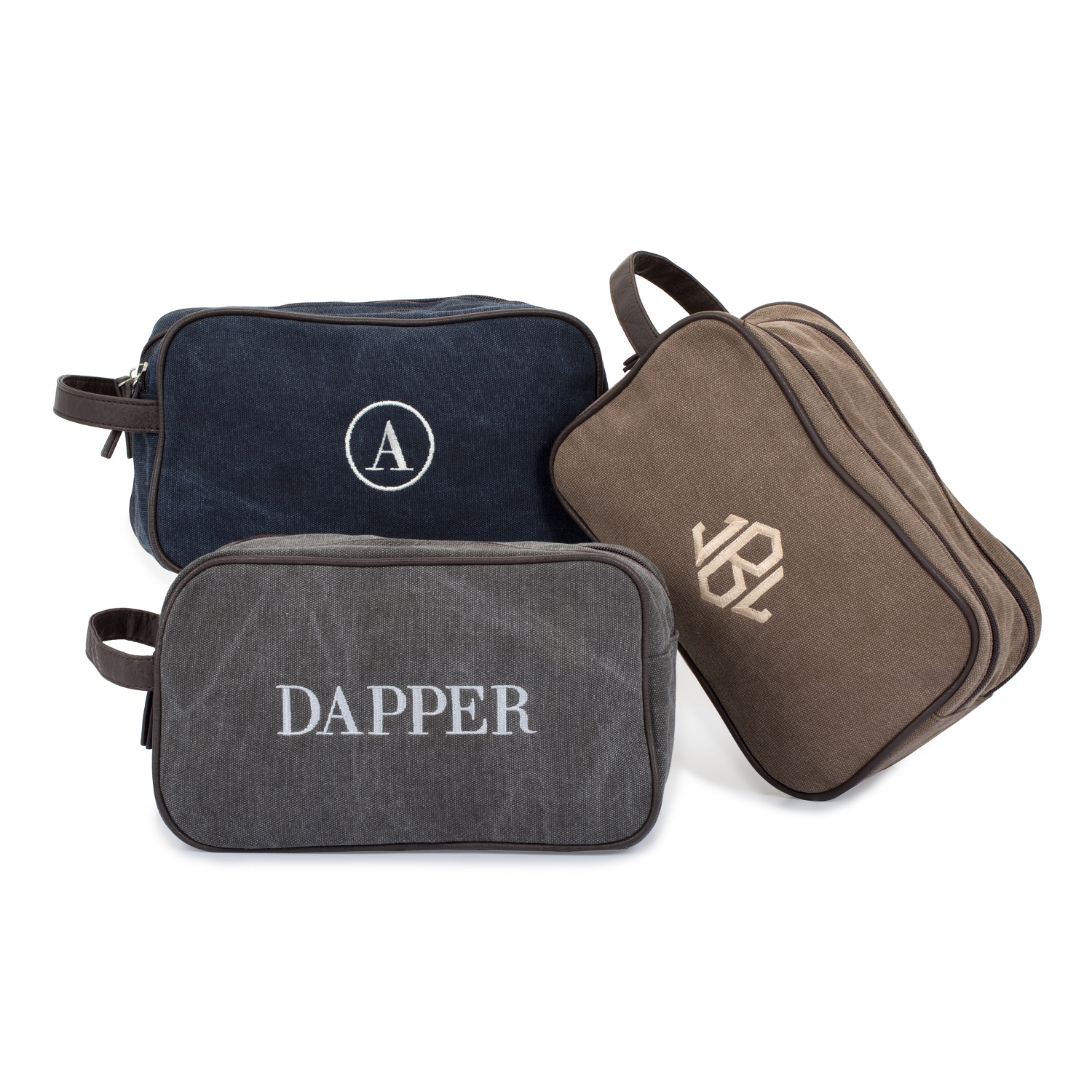 Washed Canvas Dopp Kit
- $35.00
Dopp kit is a phrase I learned recently. It's a cooler name for a toiletry bag. It also sounds like the name for a CIA agent's bag of fake passports, guns, and clothes-- needed when their cover is blown and they have to disappear.
These dopp kits won't provide you with a fake identity, but they will help each groomsman feel like a new man. They're great for organizing shaving supplies, deodorants, and nose hair trimmers.  Perfect for traveling or the gym locker room. Or even just keeping a tight bathroom space tidy. These kits also make for the perfect groomsman gift because you can have them personalized with your friend's initials or monogram.
A gift from god. Truly. What better name for a gift to your groomsmen than wingman? Nothing could be named so perfectly. The wingman is a multi-purpose tool with 12-tools, including needlenose pliers, combo knife, can and bottle opener, and a philips head screwdriver.
This if the type of gift that a person holds onto forever. And after it's old and weather, is gifted to a grandson and so passes on the torch of domestic repair knowledge unto a new generation.
High End and Practical
This gift is a bit expensive. But if you have small groomsmen party, then this is an awesome gift.
Seriously.
I will bet you the cost of this knife that when you order this for your groomsmen, you order one for yourself, too.
And I'll parlay that bet into this one: When the order arrives, you play the surprised caveman part to your soon-to-be-wife and give her the old "Oh, weird, I must have accidentally added an extra knife into my amazon order" routine.
Shun is a well known and high end Japanese kitchen knife manufacture, and this knife is a workhorse. It works as paring knife, bread knife, and general utility knife. Sharpe enough to cut through bone, and practical enough for any person to handle, no matter their knife skills.
Boozy Groomsmen Gifts For Your Drinking Buddies
Affordable and Boozy
Engraved Flask
- $19.95
The personalized flask is a classic groomsman gift. It's fun, custom, and something that a person would like to have, but wouldn't necessarily purchase for themselves. Spruce the flask up by getting one that is bound with leather. It looks cooler, and has a better feel than holding metal when you're sneaking nips of bourbon in a movie theater.
Mid-Range and Boozy
The Cali craft sampler makes the perfect gift for your groomsman that are craft beer lovers.  Featuring four different styles of beer from a top rates craft brewery its a no brainier for guys that love good beer.  Don't like the brewery?  No worries my friend, The BroBasket offers craft beer variety packs from 12 different breweries, so you are bound to find one you and your groomsman will enjoy.

The gift of beer is always appreciated. And a gift basket is great. You can get creative with your groomsman gift and pack these custom gift baskets with different beers, koozies, snacks, playing cards - anything that will ensure a fun night. With the custom beer sampler, you can pick out beer styles for each groomsmen to match their tastes. It's a great way to personalize a gift without doing something as obvious as throwing their name on it.

California is the heavyweight champion of craft beer. Some cities and states might disagree. But California breweries are pretty much responsible for the dominance of the IPA in the craft beer scene. And IPAs are inarguably the flagship style of the U.S.A's craft beer scene.
So get your friends an awesome sampler gift basket of California style beers. These come with a pint glass and delicious snacks to pair with the beers.
High-End and Boozy

When debating on groomsmen gifts, you should reserve some extra dollars to put towards something special for your best man. They probably deserve. Especially if they took the time to plan and organize a bachelor party.
And if you want to lessen the impact of the cost, there is a enough whiskey in here that your best man will be happy to share some with you.
It's got whisk(e)y to satisfy any drinker. Single-malt and blended Scotch, different types of bourbon, and Irish whiskey. It's a globe-trotting sampler pack that is the perfect great way to say thank you to your best man.
Nerdy and Tech Gifts for Groomsmen
If you get creative, then tech-focused gifts don't have to be expensive. You can make a DIY grab bag of tech gifts for the plugged-in groomsmen. Just flex your creative muscles. If you haven't worked those muscles in a while, then we're here to help.
Affordable and Techy - Grab Bag

Earphone Splitter
- $9.99
These are cool little gifts to split earbuds so you can listen to the same thing as friend. They're especially great for traveling with a companion.
 
These charging cables are 10 feet long and surprisingly useful. They also double as a jump rope for impromptu cardio.
 
This is a neat little bracelt, made in the style of buddha braids that makes sure you're never without a charger and USB plug.  
Mid-Range and Techy

Tesla Watch - $49.95
This watch is ridiculous in a fun way. And it's perfect for group of friends who lean into their nerdiness and wear it as a badge of honor. This watch is a steampunk dream, both futuristic and anachronistic. And it tells time too. This isn't an everyday type of watch. But something that would make a unique gift for the right friends.

Bluetooth Beans with Headphones - $39.99
This gift is great for any groomsman who have to deal with cold winter conditions. Or the a group of groomsman stuck 2008 and wear a beanie all year round. Bluetooth headphones make this hat worth the price. And they look pretty good too, which is rare for wearable tech.
High-End and Techy

IN A WEDDING PARTY FAR FAR AWAY…
The ultimate in nerd chic. This jacket is reserved for a best man and smuggler. It's the perfect top layer to wear to Comic Con.  And it actually doesn't look too much like a Cosplay outfit, the right person could get away with wearing it on a day-to-day basis.  
We hope you enjoyed this list we compiled, if you have anything to add, feel free to chime in. Cheers! The Guys @ The BroBasket